7 Key Takeaways from Tridion Summit 2022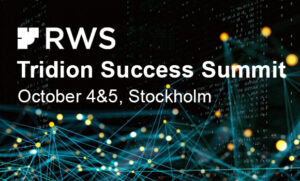 Klaus Fleischmann
CEO
Thank you to Elsa Sklavounou and Chad Weibel for inviting me to attend and participate at the RWS Tridion Success Summit 2022 in beautiful and sunny Stockholm. I was bombarded with exciting insights, bold visions, and many new friends.
Here are my 7 key takeaways from the Tridion Summit 2022:
The Vasa museum, home to the great Vasa boat, stands witness to the Vasa Syndrome: Problems in communication and management affecting projects, sometimes causing them to fail, as was the case with the 17th-century warship Vasa, which sank at its first voyage because of unclear specifications and poor communication. How can we prevent this in content projects? According to Chad Weibel from RWS, by rapid prototyping, collective shared intelligence, and advocacy.
Organizations want to be "mind readers" of their audiences and thus communication is turning bidirectional. Regarding content and content challenges, organizations in the RWS study rank fragmentation (50%), quality (35%), and volume (15%) as top issues. Speed is ranking in the top 3 challenges.
Machine learning and metadata tagging alone are only "painkillers" for content problems. The true treatment is to add taxonomies and thus context to content to expose it semantically (Andreas Blumauer). This then is the true content therapy or "content environmentalism" (Donna Alexander). Put in different words, CCMSs only provide empty but not intelligibly manageable boxes for content. Semantic AI adds "handles and labels" to these boxes. This then becomes what Gartner calls Composite AI.
Another great quote from Andreas Blumauer: If content is king, (Bill Gates), then context is queen. And personalization is the coronation. I love it (@Elsa Sklavounou).
And talking about context: We humans are "context engines" because we always try to make sense of any input. Much unlike machine learning or what we often call AI.
In preparing for the panel on the FAIR principle for data stewardship and management, it became immediately apparent to me that what I used to call siloed word lists and "glossaries" in large enterprises is, in fact, UNFAIR. True terminology always needs to be FAIR, which stands for findable, accessible, interoperable, and reusable. You will hear me talking about UNFAIR terminology a lot in the time to come.
And finally, I found a solution to the long need to clone myself. I don´t have to. It is enough to create a digital twin of my knowledge, which can be done via knowledge graphs in a graph database. I just have to find out how to do that…😉
So, what do you think about my 7 key takeaways from the Tridion Summit 2022? Let me know!
Kaleidoscope: Taking your content global
We combine our expertise and software solutions as well as those of carefully selected technology partners to create the right solutions to enable you to achieve success on the global market with your content. Thanks to our innovations and further developments, we continuously make it easier for you to manage terminology, quality, reviews, queries, and automation.
Contact us!