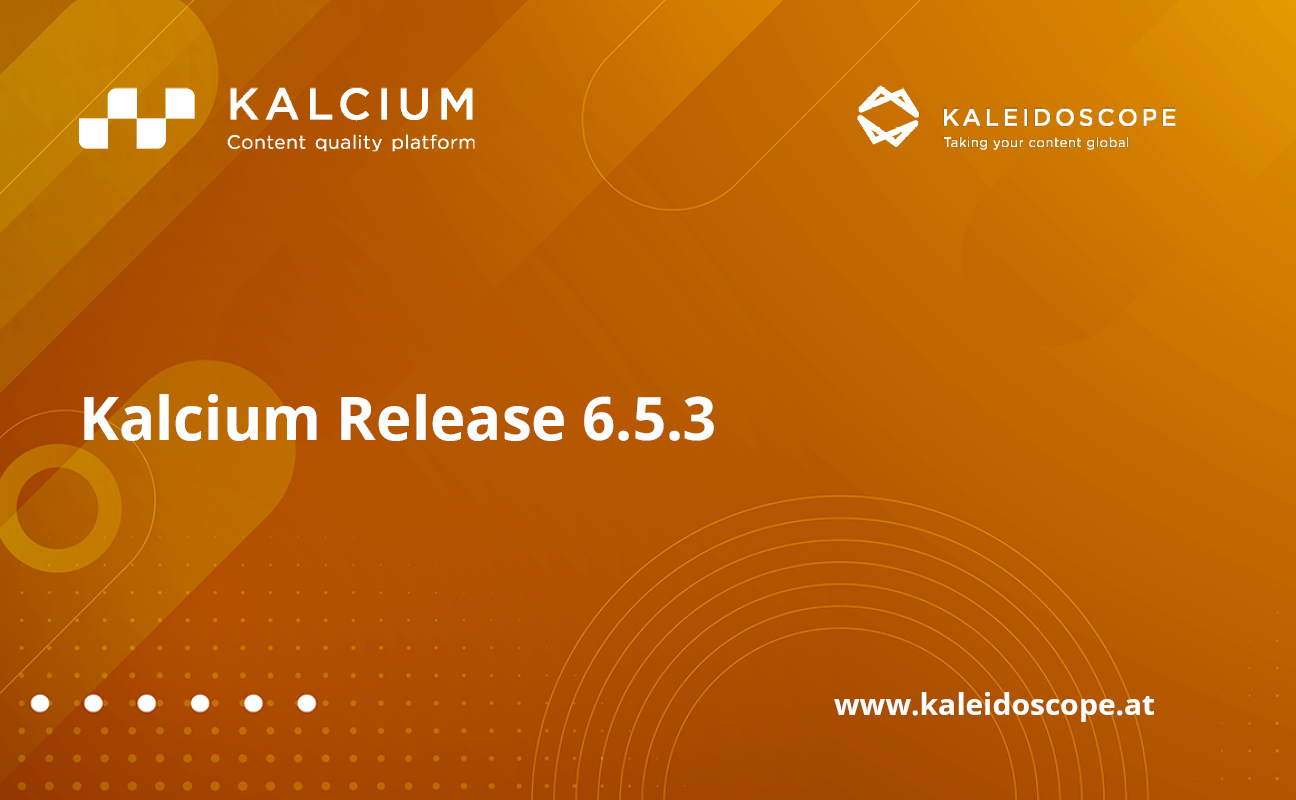 Kalcium 6.5.3 is ready and with it comes a new release of Quickterm, Checkterm, Smartquery, and more from the Kaleidoscope stable. Once again the list of new features is far too long to cover them all here, so we have a put together an overview of the most important new functions. As always, all new features are listed in the release notes.
Please note: As of Kalcium 6.5.3, only Windows Server 2016 or later is supported!
Table of Contents
What's New in Kalcium 6.5.3
Multi-factor authentication: Kalcium now offers the possibility of two-factor authentication via e-mail or an authenticator app for Kalcium, AD, and external PM system users. The use of other SSO providers will of course still be possible with this provider.
Customization to match your corporate design: Upload and use custom fonts in TTF and OFT formats to further customize Kalcium in line with your design preferences.
Refinement of task management: A new button has been added to send a link to the selected task by e-mail. You can now also view the workflow history for projects.
Audit log: Changes made by an administrator while impersonating another user are now logged.
Extensions to the display filter: Fields such as the term itself can be used as a filter condition.
Security: Passwords can now be assigned to tenant export files for greater security.
Automatic update function
Quickterm
ToDo tasks: We are continuing to improve the ToDo tasks as part of our ongoing efforts towards establishing terminology projects. In 6.5.3, you can now also restrict the editing of entries as well as the adoption of changes and feedback to entries with existing ToDo tasks, allowing you to better control which entries your users should be editing.
Workflows: A step to start a ToDo task has been added at the end of each workflow. This allows you to "chain" workflows together. Discussion tasks for term requests can also be created before they are imported into the termbase.
Audio files: Quickterm now also plays audio data.
Browse page settings: Matches can be highlighted in all search modes. You can activate this option in the group level settings.
Kalcium Publishing
Automation task: This is a new option for sending the export results by e-mail.
Checkterm
Checkterm is now also available in version 6.5.3 and offers the following new features:
Improved replace function: Capitalization is retained when replacing with an allowed term.
Replacement list: Available terms are now sorted by usage and in alphabetical order.
Stop word lists: You can now also import stop word lists.
Analysis profile: You now have different options for word separator characters and can use a 100% match over the root form.
Smartquery
Watch: Watching queries allows a user to receive information about changes to a query in which they are not actively involved. This function is now also available in the dialog box displaying any similar queries that have been found.
Schema editor: With this new option, you can now define a field as a source for the title of the respective query in order to adapt the representation in the task lists to the terminology tasks.
Kalcium Excelling
Exporting the automation task: In Kalcium Excelling, there are now options for exporting the log file, for skipping the creation of an empty file (if no entries are exported), and for sending the export results by e-mail.
More about the new features of Kalcium 6.5.3
In this webinar recording, the new functions are explained in more detail:
You find more on the possibilites of Kalcium in our blog, e.g. here:
Kaleidoscope: Taking your content global
We combine our expertise and software solutions as well as those of carefully selected technology partners to create the right solutions to enable you to achieve success on the global market with your content. Thanks to our innovations and further developments, we continuously make it easier for you to manage terminology, quality, reviews, queries, and automation.
Contact us!